Send your questions to: info@baker2018.net
Q. What is travel itinerary for the DXpedition?
A. See map below.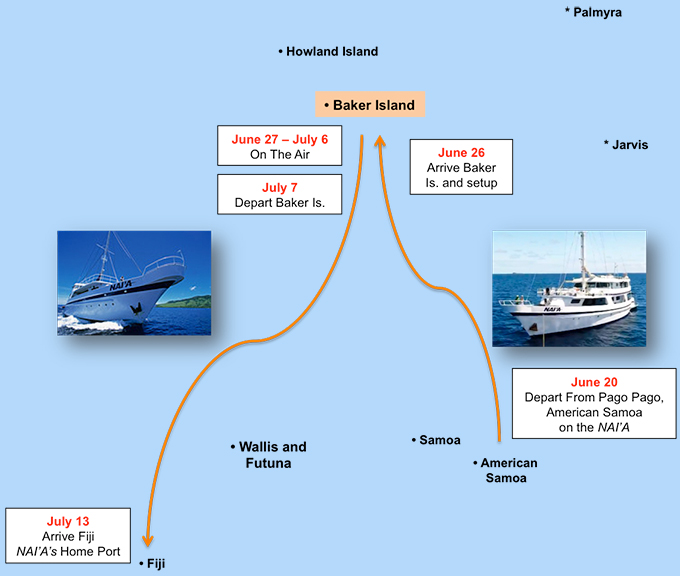 Q. What is the Grid Location for Baker Island?
A. Grid is AJ10
Q. What is the Band Plan for the operation?
A. See our detailed Band Plan HERE
Q. What will Propagation FROM Baker Island be like?
See our customized Propagation Charts for each band HERE

Q. How do you work KH1?
Make sure you can copy before calling. Do not call us if you can't copy!
Look at the split and find a clear frequency or above the pileup
Call once on a clear frequency...Keep it short so that you can hear us.
Make fast QSOs...we call you, just give signal report!
Do not repeat your call unless we have your call wrong!
We will upload QSOs often to Clublog...do not dupe QSOs, unless you are not in the log.
Q. What are the Antennas? Transceivers? Amplifiers? Logging Software?
• SteppIR Vertical antennas + custom made Vertical for 160M
• 8 Elecraft K3s transceivers + 8 KPA500 amplifiers + one KPA1500 amp
• N1MM+ Logger
• Win4K3Suite
• Helil Pro 7 Headsets
• RigExpert Analyzers
• Strong DX Engineering support (masts, guys, coax, connectors, etc.)
• UX5UO Print for QSL cards
Q. What is the LoTW upload policy for early donors -- i.e, before the DXpedition begins?
A. Dateline DX Association has a policy of uploading all pre-QRV donor's QSOs to LoTW when we return from the DXpedition and are confident the logs are correct.   We expect this to be about 10 days after we QRT (it's a long boat and plane ride home).  It is our special thanks for those who support us to get there.